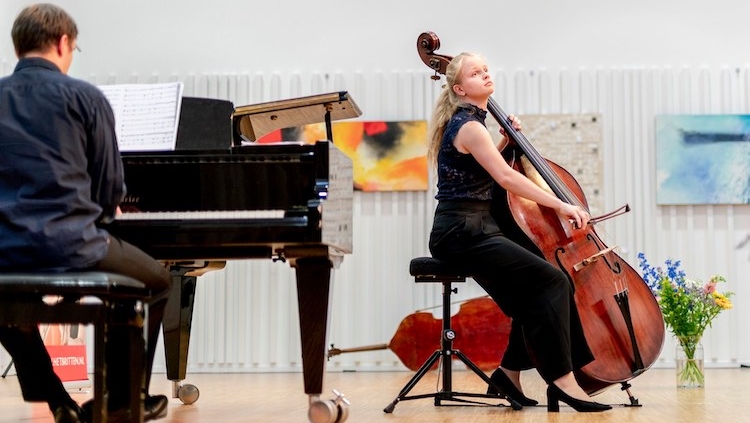 Sasha Witteveen wins first prize at Britten Contrabas Concours 2020
The Britten Contrabas Concours on the 20th of June 2020, organized by the Benjamin Britten Orkesten Foundation, was won by Sasha Witteveen (17 years old) from Ouderkerk a / d Amstel. She impressed with her highly musical and creative playing. The competition took place in the Stadkamer Centrum Zwolle with a limited audience due to the corona regulations.
Loes Visser, chairman of the jury: "Sasha is a virtuoso bass player. She has a natural sound that shows different characters. Her presentation is professional and the interaction with her pianist was great. We will be hearing a lot more from Sasha. " In addition to a masterclass by the famous Viennese double bassist Dominik Wagner that was given the same day, Sasha won a solo performance at the concert of the Britten Youth String Orchestra on 23 October in Theater de Spiegel in Zwolle.
Full article (in Dutch): https://www.hetbritten.nl/sasha-witteveen-wint-eerste-prijs-britten-contrabasconcours-2020/99/88/
https://sashawitteveen.com/wp-content/uploads/2015/05/Britten-concours-2020.jpg
500
750
sashawitteveen
sashawitteveen
2020-06-21 16:00:31
2020-08-23 11:00:56
First prize at Britten Contrabas Concours 2020